Stepping Stone Mold Work Board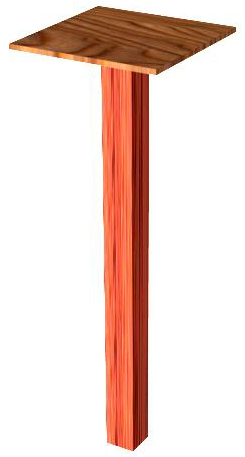 We built our working board in about 30 minutes and it has saved a lot of aches and pains with sore arm and back muscles. It also has proven to help produce stepping stones totally free of voids and air bubbles.
To use this working board we place our mold on the platform and hold the support platform board and mold together on two sides. (See photo, right) Next we have an assistant place the initial amount of concrete into the mold (usually about 1/2 of a shovel scoop).
Then move the mold and support platform together - back and forth, and side to side, rocking it on the post vigorously to agitate the concrete into the detail of the mold.
Let the support platform bear all of the weight as the mold is filled and worked.
We then lift the support platform and mold off of the ground a few times to about 2" to 3" and drop it back down to dislodge any air bubbles off of the bottom of the mold and then continue to agitate the mold back and forth, side to side, and in a circular motion to make sure all detail is filled completely.
We then fill the mold the rest of the way (to within about 1/8" of the top surface) while continuing to move the mold in the same manner.
If the mold is rocked back and forth in this manner you will see small air bubbles begin to appear at the surface of the concrete. We blow gently on the surface of the concrete to pop the tiny air bubbles and continue to agitate the mold for about 1 to 2 minutes, or until the bubbles stop appearing. You probably will never get all the tiny bubbles out, but try to get the bulk of them to rise to the surface.
Then we move the mold off of the platform and to the curing location that has been prepared. It is helpful to have your assistant take care of the work board while the other person moves the filled mold. One legged contraptions rarely stand up long on their own.